TAMPA BAY
WE'VE GONE VIRTUAL!
Sad News! Due to the limited capacity and social distancing restrictions due to COVID 19 to ensure the health and well-being of guests, Adventure Island will not be able to host Polar Plunge, Tampa Bay this season.
We're grateful for all your hard work and support and want to ensure you know how much you are appreciated. We're bummed too, but the health and well-being of our athletes, supporters and fans is our number on priority. We have fun options for you.
Please let us know your choice by emailing juliebrecher@sofl.org
Virtually Plunge for Tampa
Keep on fundraising until October 16 and receive 2 Adventure Island passes for this season or 2021 along with all the prizes for which you are eligible. Post a video of yourself plunging safely at home and become eligible for a prize.
Or you can transfer to Polar Plunge, Orlando at Aquatica on December 5th. Keep on fundraising and join us at Aquatica. We'll transfer you page and you will be eligible for Polar Plunge, Orlando prizes instead.
What is Polar Plunge?
Polar Plunge is an annual fundraising drive for those brrrr-ave enough to take the challenge! Participants ‒ or "plungers" ‒ raise funds to get wild and plunge into chilly water at five different locations across Florida.
It's the coolest event in FL ‒ literally ‒ and it's all for an amazing cause! All proceeds help Special Olympics Florida provide year-round training and services for 58,000+ unified partners and athletes with intellectual and developmental disabilities. Fundraise, create a costume, laugh, cheer, and PLUNGE with a community that shares your passion to help individuals with intellectual disabilities thrive and excel.
Did you know?
By fundraising for Special Olympics Florida, you can earn great incentives! We'll have them ready for you to pick up the morning of Polar Plunge. Learn more by visiting the Participant Tools page!
Click below to see a full list of swag and incentives!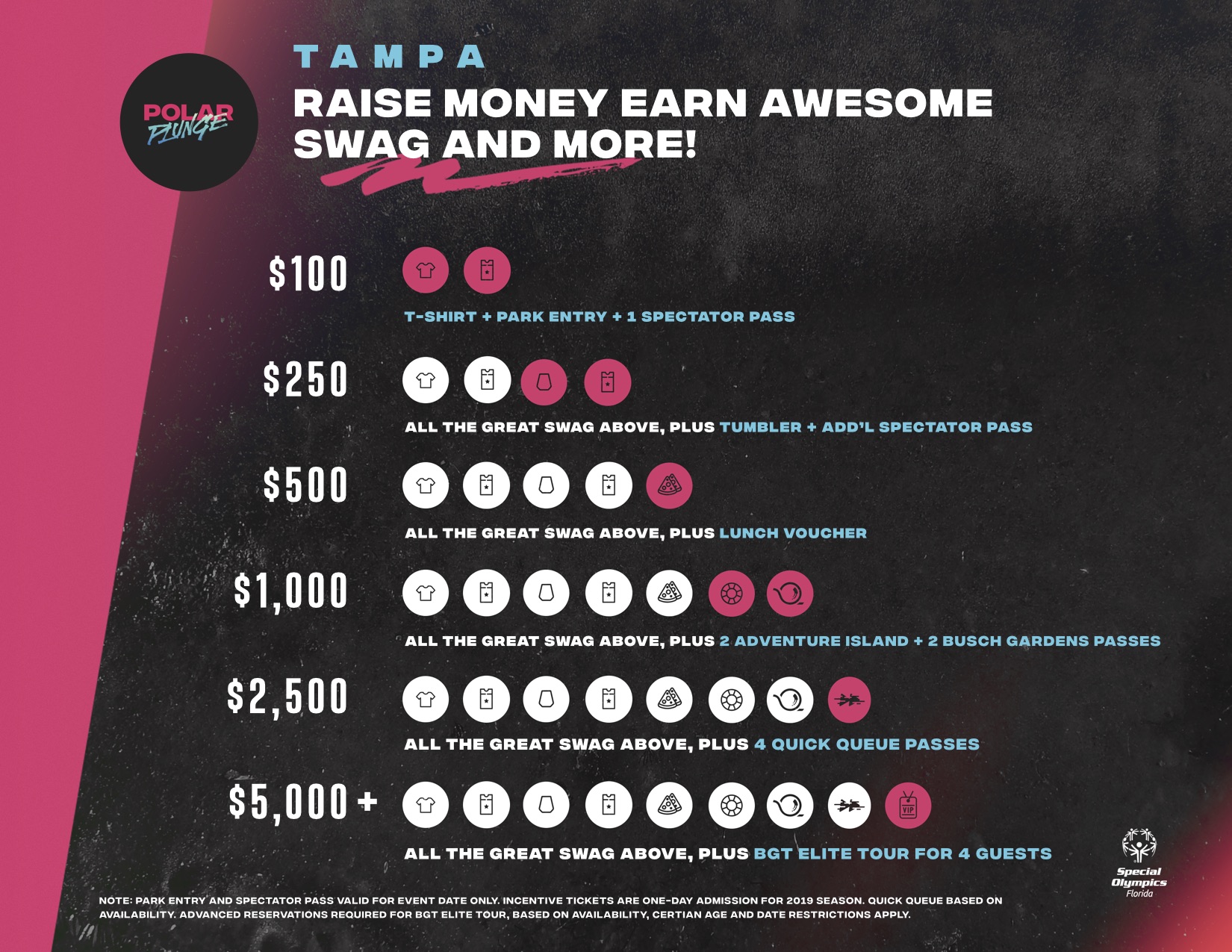 Event Location & Parking
Adventure Island
10001 McKinley Drive
Tampa, FL 33612

Please let the parking attendant know you are Plunging with Special Olympics Florida to receive complimentary parking.