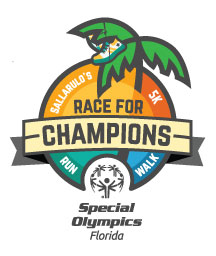 LET'S GET STARTED!
STEP 1: REGISTER
Register and Goal Set
Customize your team page with an inspiring message and upload a video or photo!
Personalize your Personal Page with your personal reason for fundraising and upload a video or photo!
Make a personal donation.
Work with your Special Olympics Florida staff partner to devise a plan that includes fundraising targets and ensure our mission is at the core of your campaign.
Set a goal that will make a significant impact!
Recruit a team ambassador or ask your staff partner for mission stories to share with your team throughout the campaign.
STEP 2: RECRUIT
Build Momentum
Does your company have more than one team? Work with your staff partner to host a Team Captain training.
Follow up the training with a company-wide email from an executive encouraging employee to sign up online and start fundraising.
Promote your team's efforts via social media. Share a photo, your goal, and let people know how they can sign up to support the team. If you are on a company team, work with your marketing or public relations department to help promote your campaign.
Send updates every week to celebrate progress and encourage your team members!
STEP 3: FUNDRAISE
Encourage fundraising
Meet with each team member to help them start fundraising. Have them list friends, neighbors, and local organizations they plan to reach out to.
Check-in with your team members and celebrate their successes!
Arrange incentives to motivate your team, such as a free lunch or coffee.
Arrange to make or have signs made to represent your team on the event day.
What will your team wear? Get creative with your team and make team shirts, themed costumes, or even matching outfits.
Continue to promote the mission of Special Olympics Florida and goals through social media, email, and text with your team members.
STEP 4: RUN/WALK
Get Ready to Celebrate our Champions!
Organize your team and celebrate your success on the event day!
Contact your team members and get them excited about the event day.
Send thank-you notes to each team member!
Share your photos on social media and use #SOFL when you post!
Who to Ask
Neighbors, Friends, and Family Members
Work Colleagues
Local Coffee Shops or Restaurants
Hair and Beauty Salons
Landscaping Companies
Local Grocers
Daycare Centers
Doctor/Dentist Offices
Insurance Providers
Let me know how I may help!
Danielle Myers | 352-243-9536 | DanielleMyers@sofl.org