#COOLSCHOOLPLUNGE
Join us as we plunge to support the mission of Special Olympics Florida! This year we are doing it up BIGGER and better than ever and we want you to join in all the fun!
You have the opportunity to sponsor an athlete for a full year of sports with a donation of $350.
WHAT IT IS:
#COOLSCHOOLPLUNGE is a way to support Special Olympics Florida and have some fun.
We want you to be creative and have fun as you take the #COOLSCHOOLPLUNGE! But we want you to be safe too, so please don't do anything dangerous. Here are a few ideas you can try – take a cold shower or fill your bathtub with ice cubes (remember to wear a swimsuit), plunge in your pool, plunge at the beach, run through a sprinkler, have your favorite action figure plunge into a water cup, or get sprayed with a hose outside. Most of all have fun! And bonus - you can earn some cool prizes.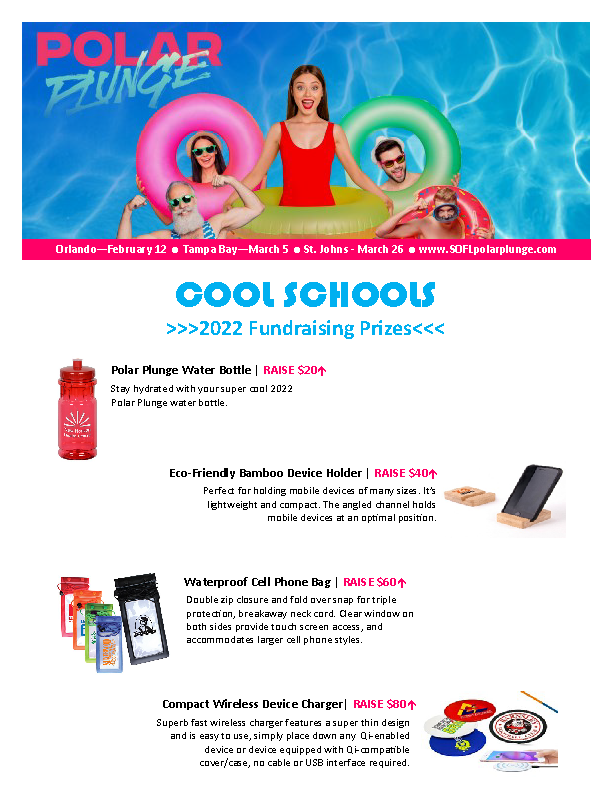 HERE'S HOW:
Step 1: Click the registration link above and choose the Start a Team, Join a Team, or plunge as an Individual.
Step 2: Get creative and come up with a fun way to take the Plunge at home (we have some ideas below).
Step 3: Share your experience online and challenge your friends and family to do the same within the next 24 hours! Make sure to tag us on TikTok, Facebook and Instagram. Don't forget to use the hashtag #COOLSCHOOLPLUNGE.
Step 4: If you are unable to #coolschoolplunge please consider donating to help our nearly 60,000 athletes and make a difference in their lives!
Plungers who raise $100 or more are invited to join the Plunge party at any of the onsite Polar Plunges at Aquatica, Adventure Island, or Beachwalk Club's Crystal Lagoon.
And It's All for a Great Cause!